Welcome to the site dedicated to the Dodge-powered Hall GTC (Grand Touring Coach)
Introduction by Matt Tritt -- The Hall GTC was the brainchild of John Hall, stepson of Airstream founder Wally Byam and former CEO of Revcon Industries. His new venture was called Hall Coach Inc., located in Fountain Valley, California. Designed as an elegant alternative to the cumbersome A and C class motorhomes available in the early 70's, the Hall GTC was designed to be as great on the road as it was in camping and included a Dodge factory custom stretch chassis with anti-sway bars on both axles, sleek aerodynamic body and well-balanced power package of a 360 cid V-8 and heavy-duty model 727 automatic transmission.
A look at the exterior body styling reveals the influence of both the Airstream and Revcon with its rounded contours, curved sides and attention to details. And like the other makes, the GTC includes a reinforcing metal framework to stiffen and support the coach body structure. But in the GTC, Hall went a step further by moving away from the riveted aluminum body skins of his previous RVs -- to a very heavy-duty one piece fiberglass outer shell and beautifully finished full glass inner liner. In an effort to keep inside temperatures as stable as possible and to keep propane use down -- the entire coach, including the floor, is insulated with polyurethane high-density foam.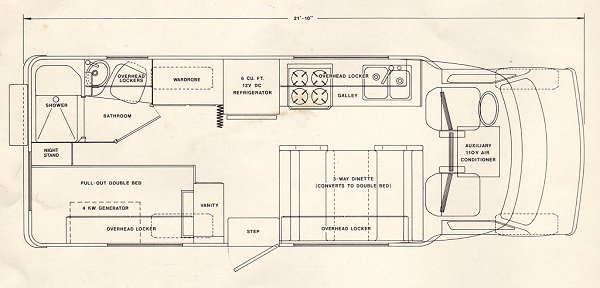 There is plenty of tank capacity for water, sewage and grey water, a 13 gallon propane tank, a 7 gallon dual heat-source hot water tank (engine heat and/or 110 volt AC) and a dual gas tanks with a total capacity of 39.6 gallons with a 50 gallon single tank optional. There are three batteries -- one for the running gear and two for the house systems, which are mounted in a pull-out fiberglass box tray. (I replaced this setup with two high capacity AGM deep-cycle non-vented batteries bolted to the battery compartment floor to increase dry camping time and eliminate fumes and maintenance) The 22,000 BTU propane furnace distributes heat via all-steel duct work that is enclosed within the insulated body, not hung under the floor, to maximize heating and minimize cold intrusion. The original Generac gasoline generator is rated @ 4 kW continuous with 5 kW surge capacity @ a low 1800 RPM, is well sound attenuated and even has a rope-start pulley as backup, should the starter fail. (Note: these generators are now quite hard to find parts for and a direct replacement will be difficult.) The rear bumper is designed to be pulled out to afford additional space for storage of oversized gear -- or even motorcycles (how you get a MC up there is a mystery!) -- and there is an automatic entry step -- a very early vintage Quickee!

From the perspective of a mechanic, the GTC house systems are exceptionally well done. All pressure water lines are copper, all drain and vent lines are ABS, all wiring is well organized, neatly bundled and the wires and plumbing lines are all well secured to prevent chafing and rattling. Looking behind the cabinets is very similar to what you find in aircraft and boats.

All in all, the Hall GTCs were top of the line for their day and hold up well against more current vehicles in many categories. The only shortcomings would be in the Bells and Whistles department -- particularly the absence of modern electronics and entertainment equipment -- but also in the minimal storage space for large, bulky items. The B300 Dodge chassis and running gear is also not quite as powerful or fuel-efficient as new rigs, and the brakes require a little getting used to, even though there are discs in front, huge drums in back and a vacuum-boosted master cylinder. Traffic is much faster now and there is a lot more of it -- and the GTC is a heavy vehicle so a little caution is prudent.