Hall GTC Owned By Nick Taylor, San Diego, California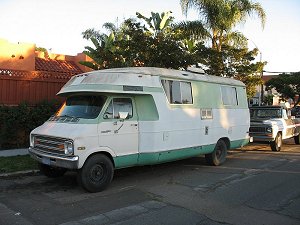 I bought this 1974 Hall GTC in November of 2010 from an ad on Craigslist. I'd seen these campers online when I was first looking for a small motorhome a couple years ago. I had read that they are pretty rare so really didn't look too hard. I had settled on getting a Chinook Concourse but couldn't find one that fit my needs that I could afford. What I ended up buying was a 1979 Brougham Travel-Van which is smaller than the Chinook but the same basic layout with the door in the rear and a drop down floor so you can stand up by the back door. The roof is very low so you have to crouch to get to the seating but a very good layout for me. So I didn't need another camper but things happen.
I never stop looking at ads for RVs and such and ran across this Hall GTC for sale about 50 miles from my house. The price seemed reasonable but the ad only had one picture and little information. A call to the seller and arrangements were made to check it out. We were to meet at a grocery store parking lot and I got there first, when I saw it driving in I thought it sure looked a lot bigger than I expected. And it sure was dirty. Looks to have been sitting under some trees for a while. From talking to the owner before I got there I knew it wasn't going to be in pristine shape. The good thing is that the bones are good. It's mostly just the upholstery, carpet and paint that need attention. Oh and there are many cabinet latches that are broken. When you drive down the road, door and drawers are opening all over the place.
I took it for a test drive and the engine and transmission seem to be in good shape. The brakes worked well but the steering is a little sloppy. It needs and idler arm and the steering box is leaking. My mind started adding up all the things that it's going to need to get it back into regular service. A deal was struck and arrangements to pick it up were made. Picked it up the next day and drove it the 50 miles to my house. Only problem was that the heat was stuck on so I had to pull over to shut it off under the hood. The camper had a problem with mice in it so the smell going down the road was not very sweet. The seats are not only ugly but they're very uncomfortable. Going to look for some standard Dodge ones.
Anyway, this is just the beginning of the story. Since I had a hard time finding information online, I decided to throw this web site together to help out anyone else with one of these rare campers. More information will be added as the project proceeds.
---